HAVE YOU ATTENDED ONE OF OUR WORKSHOPS?
Take your Pilates training to the next level – learn from professionals who have the expertise, experience, and ability to share their knowledge and how to apply this within the Pilates environment.
At Core Pilates Brisbane we are all about learning, questioning and extending ourselves.  If this fits with you, we invite you to attend one of our workshops on topics ranging from pre and post-natal care, bone-strengthening, back care, postural correction, general conditioning and more. Our workshops aim to help you take this knowledge and apply it within your working environment to better facilitate change, strength, health, and wellness for your clients.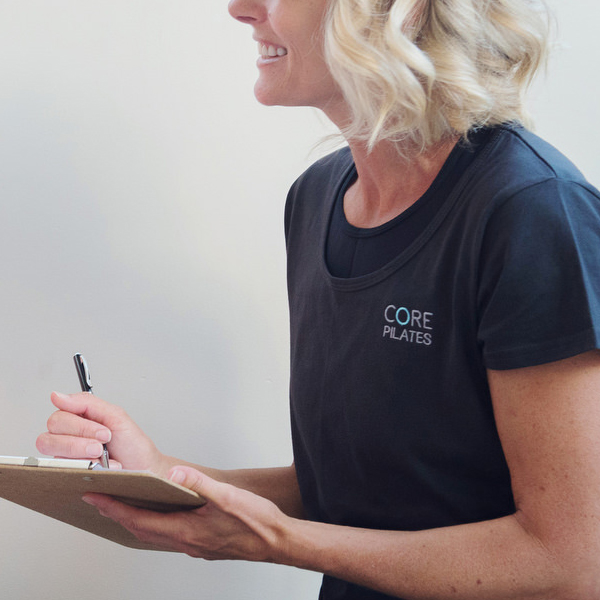 Experience Pilates the way it should be taught
Get in touch to register for one of our courses today!
"From my first conversation with Lisa Jackson at Core Pilates to enquire about learning Pilates through PITC in September 2013, Lisa's passion for Pilates has been contagious. As a student mastering the Diploma of Professional Pilates Instruction, with only a few years of Studio Pilates experience, the volume and depth of knowledge required seemed extensive and at times daunting. Lisa and her staff were always very supportive, approachable and wonderfully patient mentors. I need to be close enough to see and feel the execution of exercises myself to learn. I will forever be grateful to Lisa's clients, Lisa and her staff for not only enabling me, but also encouraging me to do this.
Core Pilates is an inspirational and happy studio where the attention to detail is meticulous. I thoroughly enjoy going for my personal sessions, continuing to learn, and feeling blessed to be mentored by Lisa and her staff."
Robyn Sanders
Core Pilates Student-Teacher
"As an instructor previously trained through several other organisations I cannot recommend PilatesITC with Core Pilates as the Queensland Training Centre highly enough.  Lisa and her staff create an absolutely inclusive learning facility where you are never made to feel inadequate.  Every trainee is made to feel welcome and no question or opinion is ever discounted without being examined on its merit first. Training is extremely thorough and presented via workshops, practicums, and hands-on learning. I am so pleased with my experience at PilatesITC and Core Pilates that I will be continuing my education and completing the Advanced Diploma of Professional Pilates."  
Angela Schoemaker
Core Pilates Student-Teacher
"Each day that I make the time to come into Core Pilates I leave feeling challenged and inspired. I find that all the staff really love Pilates and that is evident everyday through the passion they show. The studio has a very welcoming feel and an amazing student community. If you would like to try Pilates or are thinking about studying to be an instructor I highly recommend Core Pilates Brisbane."
Julie Hamilton
Core Pilates Student-Teacher